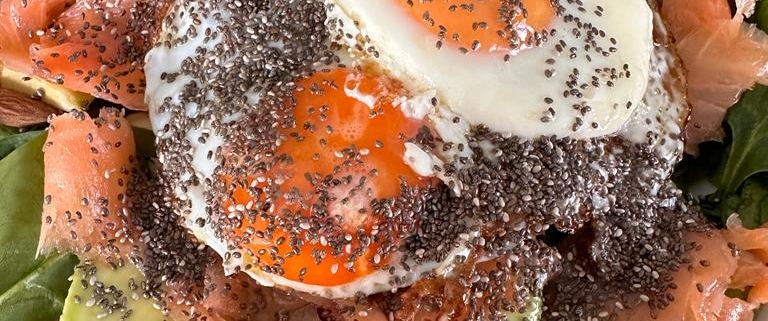 When thinking about trying to "lose weight" it can be really easy to get sucked into the world of restriction and eating "low calorie" or "low fat."
A healthier way to reframe weight loss is to think about becoming a healthy person rather than an overweight person who "must" lose weight for a holiday or event. To work towards identifying as a healthy person allows for a longer time frame and a longer journey, that will include highs and lows, successes and failures. The final outcome of being a healthy person also allows for the long term sustainable 80/20 way of living your life too.
Becoming a Healthy Person

It is a healthy person who can have a few glasses of wine at the weekend, or eat a pizza or an Indian takeaway a few times a month. A healthy person has a healthy relationship with food, knowing that most of the time they nourish their body with the amazing minerals, vitamins, proteins, fats and carbohydrates that they need to maintain optimal body function and keep them away from the doctor and ideally disease free.
A great way to start working towards being a healthy person is to start learning about the nutrients that are in your food and the function they are necessary for within your body. It might make you stop wasting calories of foods that interrupt and impair the way that your body is supposed to work.

Here is a breakdown of a nutrient dense lunchtime salad. It has over 800 calories because the food within it is full of satiating and filling fats and proteins. This is eaten after a fasted morning as the first meal of the day around 12:00. Later in the day a dinner time meal can be eaten and a further bowl of antioxidant rich fruit can be used as a snack / treat too dependent on the required calorie consumption for the day and whether the need is fat loss or maintenance.
Nutrient Dense Lunchtime Salad: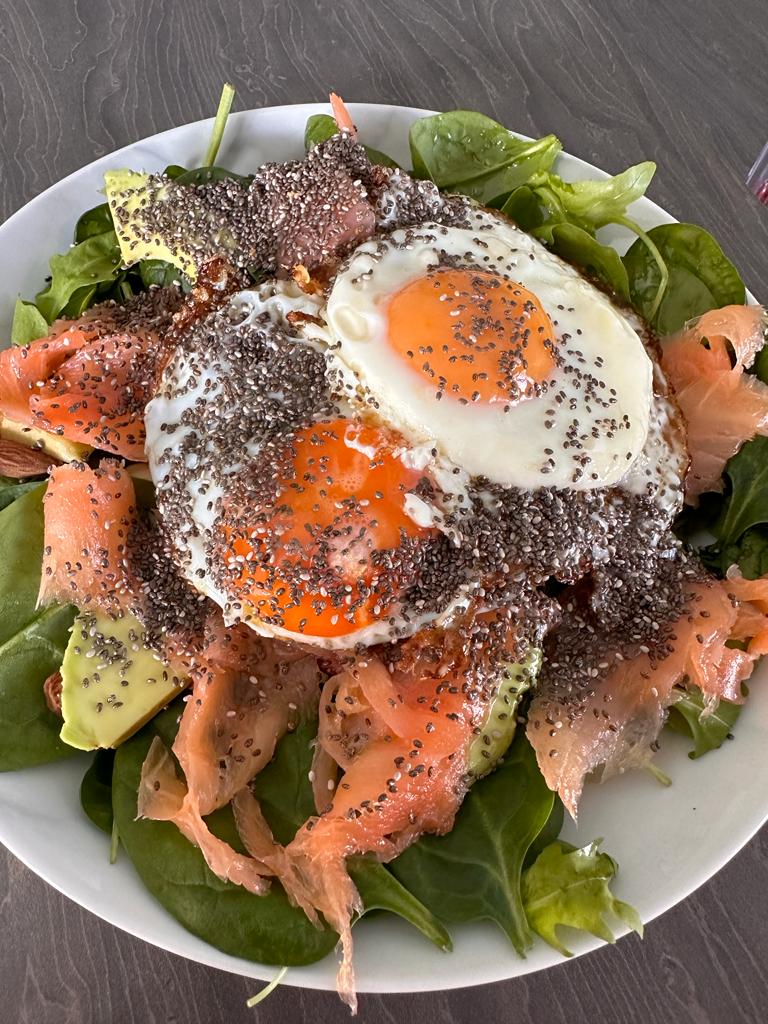 Essential Amino Acids
Amino acids are the building blocks of protein. Your body needs 20 different amino acids to perform its basic functions. The body can make 11 of the amino acids itself – but the other 9 "essential amino acids" have to come from food sources because the body cannot make them. Consuming animal meats and dairy is a very easy ways to provide the body with these "complete proteins." On a vegan diet it becomes more complicated because the proteins must be combined in order for them to work. In the salad above all 9 essential amino acids are included and you can see below from the list of their function why it is so important to get your daily protein allowance.
Phenylalanine (Essential Amino Acid)
Needed for creating insulin to regulate blood sugar, production of collagen & elastin to support the skin. The body uses phenylalanine to produce the neurotransmitter norepinephrine. Norepinephrine has antidepressant properties, improves memory, reduces hunger pains and helps signals travel between the brain and body's nerve cells.
Found in SMOKED SALMON, EGGS, organic soya, seaweed & algae, poultry & beef
Tryptophan (Essential Amino Acid)
Maintaining mental function through its conversion to serotonin. Aiding good sleep. Producing serotonin and regulating and elevating mood.
Found in EGGS & NUTS, bananas, seaweed & algae, poultry & beef
Lysine (Essential Aino Acid)

Essential for absorbing calcium from food, the integrity of skin and energy production in muscles at cellular level.
Found in EGGS, mung beans, chickpeas, hazelnuts & seaweed & algae, poultry & beef
Methionine (Essential Amino Acid)

Supports the immune system and helps to prevent allergies. Essential for the production of serotonin to help regulate mood and relaxation.
Found in AVOCADOS, sunflower seeds, seaweed & algae, poultry & beef
LEUCINE, ISOLEUCINE & VALINE (Essential Amino Acids)
Essential for wound healing and the rebuilding and repair of muscles
Found in ALL NUTS & SEEDS, seaweed & algae, EGGS, poultry & beef

Threonine (Essential Amino Acid)

Essential for Collagen production, controlling inflammation such as eczema, arthritis & IBS. Supporting the immune system.
Found in: Meat, SALMON, EGGS, PUMPKIN SEEDS, dairy, cottage cheese, carrots, bananas, sesame seeds

Histidine: (Essential Amino Acid)

Histidine helps make a brain chemical (neurotransmitter) called histamine. Histamine plays an important role in your body's immune function, digestion, sleep and sexual function.

Found in: Meat, Poultry, Fish – including SALMON, Peas, Oats & Kidney beans.
Other Vitamins & Minerals Found in this Powerhouse Salad:

LEAFY GREENS (watercress, rocket & spinach):
Vitamin A, vitamin C, antioxidants, fibre, folate, vitamin K, magnesium, calcium, iron and potassium

BRAZIL NUTS: Selenium – Immunity, reproductive function, healing damaged tissue
Magnesium – Bone health & Muscle function
Phosphorus – Bone & teeth health
PUMPKIN SEEDS: Healthy fats, magnesium & antioxidants (selenium & beta carotene)
Zinc – Creation of DNA, growth of cells, healing damaged tissue, immunity
Phosphorus – Works with calcium to build bones, repairs tissue & cells
Manganese – Bone health, powerful antioxidant, energy metabolism
CHIA SEEDS: Quercetin – Good for heart issues, lowering blood pressure, prostate infections, prevention of respiratory infections, allergies
Copper – Healthy bones, blood vessels, nerves & immune function LOW COPPER linked to high blood pressure & high cholesterol
Iron – Energy levels, red blood cell function, mental & physical performance
Also in Chia seeds – Calcium, Manganese, Magnesium, Selenium
OLIVE OIL: Vitamin E – Protects from free radicals, prevents blood clotting in blood vessels, boosts immunity.
Vitamin K – For blood clotting, bone mineralization & bone metabolism
Healthy fats – decreased risk of cardiovascular disease, decreases LDL cholesterol.
APPLE CIDER VINEGAR: Reported to help do the following:
Kill harmful bacteria
Lower blood sugar and manage diabetes
Aid weight-loss
Reduce cholesterol
Antioxidant effects
Conclusion:
Changing the narrative around weight loss and becoming more positive can be very helpful. Instead of being a failure because a diet is not adhered to with perfection, the simple reframing of the goal to: "I am working on becoming a healthy person," allows an individual flexibility and kindness when on a long term journey to change lifelong ingrained habits.

Asking the questions, "would a healthy person eat this?" or "how is this food going to help my body to function?" can really help an individual to rewire automatic habit responses to stress, anxiety and tiredness. Indeed by eating with a nutritional goal: sleep, anxiety and stress will all improve, thereby often removing triggering emotions which lead to habitual poor food choices.

If mental health is suffering, looking at your nutrition is a better first port of call than the doctors surgery and antidepressants. By concentrating on increasing the nutrients needs for superior mental health function alongside a quality daily exercise habit, most antidepressant usage can be avoided.

If you want a little more help with difficult habits and food choices, or taking the first step on your journey to becoming a healthy person, then please get in touch with one of our health coaches today for a FREE 30 minute chat to see if we can help you begin your positive, healthy and happy life.

Send a text to arrange your FREE call on 07775 998053 or email [email protected]

https://teamtraininguk.com/wp-content/uploads/2022/11/WhatsApp-Image-2022-11-09-at-1.36.20-PM.jpeg
1024
768
Catherine Pearson
https://teamtraininguk.com/wp-content/uploads/2021/12/TeamTrainingUK-Logo-SingleLine-2-300x39.png
Catherine Pearson
2022-11-09 15:09:52
2022-11-09 16:18:54
Nutrition for Longevity – A Powerhouse Packed Lunch for a Long Life